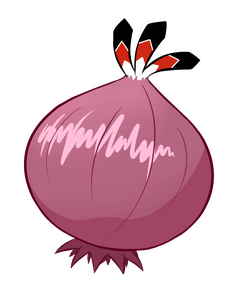 About Us
MISI:Bawang is a biannual digital booklet project that was initiated under MISI:Solidariti, and it is brought to life with your stories and art!

We're called MISI:Bawang because bawang, an onion, as we all know have layers, just like our experiences, dreams, thoughts, stories, and art! Membawang also happens to be a Malaysian term for "gossip", though often used in a negative light, in MISI:Bawang we say

"Marilah kita membawang tentang pengalaman dan cerita masing-masing!"
("Let us gossip about our individual experiences and stories!")

The digital booklets we create are completely FREE and it includes insights on the chosen topic as well as your submission of short stories, poems, comics, photos, artworks, and etc!
Our Objectives:
This project was created out of the belief in the power of sharing our experiences through stories, poems, artworks, etc. Art plays an important role in activism, there is power in being brave with sharing the experiences we've been through. Hence, our objectives for this project are:

1. To cultivate empathy in each other through stories and artworks.
2. To be the space where peoples' experiences and voices are shared, read, and heard.
Bawang Booklets
Our first booklet was on the topic of Mental Health and it was titled "Onion Soup for the Soul". This booklet has informative write-ups such as 'Debunking Mental Health stigmas', 'How to Be Better Allies' and more! It also has over 30 submissions of people's experiences and stories with their mental health.
If you have some time to spare, we would love to hear some feedback from you for us to grow and be better. The below will direct you to our feedback form. Thank you! <3
Submit to Us
If you wish to contribute to MISI:Bawang's 2nd booklet about being part of the LGBTQ+ community, this section is for you!
About Our LGBTQ+ Booklet
We want to create a booklet of your LGBTQ+ stories and experiences — whether it is through a story, poem, digital art, or comic — it's completely up to you!

Art is a powerful tool in activism.
There is power in sharing your stories and experiences because

What if your submission changes someone's perspective towards the LGBTQ+ community?
What if a queer 15 year old reads your submission and they feel less alone?
What if your submission inspires someone to fight harder for the LGBTQ+ community?
Sections of Our LGBTQ+ Booklet
Sunshine and Rainbows

We often hear many tragic stories from the community that we sometimes forget that there are wholesome and loving experiences in the LGBTQ+ community. Maybe that experience is a 6-year-old boy calling you a prince in a supermarket or your first queer relationship. What are your sunshine and rainbows?

Kehidupan Kuih Lapis di Malaysia

It's not easing growing up LGBTQ+ in Malaysia when homophobia, transphobia, and queerphobia is ingrained in our society. So, we want to hear what it was like growing up for a kuih lapis like yourself in Malaysia.

To Infinity and Beyond

We selected the subtopic to infinity and beyond because at times, the law feels dictative of what we can or cannot do as an LGBTQ+ person in Malaysia. But, we know that you are capable of dreaming big, and thinking beyond the laws that limit us. Therefore, we want to hear and see fiction stories with LGBTQ+ characters. Whether it's the journey of a non-binary astronaut, or a lesbian pirate, go wild!

Coming Out of My Cage, and I'm doing Just Fine

Coming out is never easy — whether it's coming out to a best friend, siblings, parents or even yourself. Sometimes that experience is joyous when a best friend listens patiently and kindly, but sometimes that experience can also be heartbreaking. We want to hear your experiences with coming out.
Guidelines for Submissions
Any form of media, such as short stories, poems, pictures, comics and digital art is allowed

Written works can be in English, Malay, Tamil or Chinese.

Each submission is limited to 2 pages (Size A5)

Photos and artworks can be in a collage form as long as it adheres to the 2 page limit

Written pieces are limited to 1500 words.

Do place disclaimers in your submissions! Some topics may be triggering/sensitive for others so please include content/trigger warnings on your submissions, as we aim for this booklet to be a safe space for all.

Submit your work in a PDF file through our google form, Link can be found below.
---
If you have any enquiries, feel free to email us at [email protected] or DM us!
Projects
Besides creating a booklet, we also do other projects related to using art as a tool in our activism. As the last booklet was our first we did not get to explore other projects but this time, MISI:Bawang has two exciting projects planned for the next 6 months!

Our first project was called 'Projek Bawang Putih', a fundraising campaign in collaboration with SEED to help the trans community in Malaysia. We successfully collected more than RM10K for SEED within only two months.

Our second project is in the making, so stay tuned!
Frequently Asked Questions
To clear some worries, doubts or questions, here's a section for frequently asked questions.
1. Why should I contribute to MISI:Bawang?
Submitting your own work and art is a great way to create awareness and shed light on topics that are rarely talked about on social media and in real life. Many issues are censored, vaguely talked about or are filtered out on other outlets.

This booklet aims to spur discussion in a more direct and detailed way and help to create exposure about the struggles and experiences of those who are oppressed and afflicted by these issues without the boundaries of censorship.

We also want to create a platform for everybody to be able to freely express themselves through art and media! MISI:Bawang is a space where you can share your art and your experiences with all of us. This is a great opportunity for you to share your thoughts and ideas with a wide audience.
2. How long is the submission period?
Our submission period typically lasts for about 3 months.

So our submission period for this booklet starts from 26th June 2021 and will last for about three months. The last date to submit is 18th September 2021. Don't worry if you're scared of missing the due date, we will post periodically to remind you of the deadline.
3. Will MISI:Bawang accept all submissions? How will I know if my work has been chosen?
Unfortunately, we don't have enough manpower to accept all submissions for our booklet. However, works that weren't chosen for our booklet will be up on our social media!

We will notify you if your work has been accepted to be part of our booklet, one or two weeks after the submission deadline which is the 18th of September.
4. Can my work be credited as anonymous or under a pseudonym?
Yes! If you would like to be credited as anonymous or under a pseudonym, there is an option for this in our google form for submissions.
5. Once I've submitted my work, does it belong to MISI:Bawang?
Absolutely not! Your art is yours, and yours alone. MISI:Bawang takes no credit for the work you submit to us. We are only here to compile all the artwork you send to us and help with minor editing when it comes to written pieces.
6. Will MISI:Bawang profit off my artwork?
Nope! The digital booklet will be available for all, and will be free of charge. The only thing we ask for is donations from readers if they would like to further support MISI:Bawang or MISI:Solidariti.
7. What will my work be used for?
The main objective of MISI:Bawang is to be a platform for everyone to share their stories, whether through visual arts or literature— stories, poems, comics, illustrations and so on.

The team at MISI:Bawang aims to publish an informative digital booklet that includes the experience of real people.The world is scary, our experiences are scary, and to go through everything alone is terrifying. However, if one person shares their experience, then everything becomes less isolating to many others who are going through the same thing.
Contact Us
For any inquiries, messages, questions, collaborations, and other matters please contact us via our social media or our email [email protected]
Projek Bawang Putih
Trans communities all over Malaysia need all the help they can get!

Our current goal is to raise RM25,000 to put food on the table for these vulnerable communities, lest they suffer another day of hunger during this pandemic.

Not to mention, when you donate, you get to pick your favorite Bawang-themed gift from a wide variety of choices (depending on eligibility), all of which are created with love by our team of graphic designers!!

Our catalog consists of cute phone wallpapers, digital wallpapers, printable/digital calendar, printable/digital journal, printable posters, and social media icons.
---
Here's the bank account details:
Pertubuhan Pembangunan Kebajikan Dan Persekitaran Positif Malaysia (SEED)
CIMB 800-6999-903
Reference: PBP

Once you've donated, fill up our google form to select the Bawang art you would like to have!
Art you can have with your donation!
Stars Glowing Phone Wallpaper
Jenis2 Bawang Phone Wallpaper Set (Brown)
Jenis2 Bawang Phone Wallpaper Set (Pink)
Jenis2 Bawang Phone Wallpaper Set (Blue)
Nasi Goreng Bawang Phone Wallpaper Set (Brown)
Nasi Goreng Bawang Phone Wallpaper Set (Pink)
Nasi Goreng Bawang Phone Wallpaper Set (Blue)
Kelab Kuih Lapis Buku Latihan Desktop Wallpaper
Kelab Kuih Lapis Nota Desktop Wallpaper
Bawang Pattern Warm Desktop Wallpaper
Bawang Pattern Cool Desktop Wallpaper